Who does not know them? Dutch DJs touring all over the world and attract full stadiums. Thousands of people in big stadiums around the world are going crazy over Martin Garrix, Armin van Buuren, DJ Tiesto, Afrojack and Hardwell. And we are not even talking about the Hardstyle / Hardcore festivals that are very popular among youth.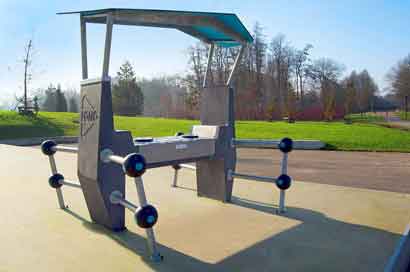 Just like back in the day how everyone used to wanting to be like Johan Cruyff at football, they now want to be the new Garrix. For the football players there are the Cruyff Courts where everyone can show his or her skills. But as a future DJ you have to invest a lot to be able to practice at home. What could be more fun than being able to play outside with your friends and test your music, without the neighbours complaining about noise.
Meeting place for youth

The company Yalp has responded to the research into what keeps the young people worldwide busy who have outgrown the playground. Not surprisingly, they are: their smartphone, internet and music. The Fono was designed for these results. A mobile DJ table that can be placed in public areas, a meeting point with Wi-Fi ideal for a sports field, playground or skating track.
The youth is challenged to be creative with music in the open air. With the help of a Wi-Fi Hotspot, the DJs to be can test their music here to become a top DJ. The Fono is now already in Breda, Amsterdam, The Hague, Rotterdam, but is also sold worldwide. For example, in France, Germany but also in Australia. The place where young people hang out moves regularly, that is why the outdoor object is movable. However, there is still a challenge.

Seclock bolt secures Fono

The Fono is placed, as stated, in public areas which can lead to vandalism and theft of the materials with which the Fono is mounted. This is where our SecuFast® Seclock bolts come into play. To prevent vandalism or theft, the Fono is secured with these SecuFast Seclock safety bolts. Seclock bolts require special tools for assembling and/or disassembling; this has to do with the unique head shape. This tool is only sold in combination with the bolts. A piece of Dutch innovation where our Security screws are part of.
The wait is now for a new top DJ that has become famous, because of the Fono. As a supplier of the SecuFast Seclock bolts, we can say that we have also contributed with a small part to this success.